If you are interested in exposing your business to a diverse engaged community, then Dallas South News is the right place.  Many of your potential customers visit this website every day or pick up our brand new print publication distributed throughout Southern Dallas.
We provide quality content focused on Southern Dallas communities and issues DallasSouthNews.org is easily accessed by anyone who has access to the Internet. Social media, such as Facebook and Twitter, are integral parts of our operations, engaging readers in conversations about the issues that affect their daily lives.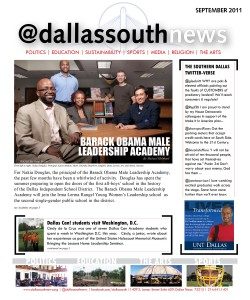 To provide our audience with an additional way to receive hyper-local news we developed a print newspaper supplemental offering. We provide readers as much useful, relevant and free information as possible. While Dallas South News has been successful online, we now have the opportunity to broaden our reach through our print publication. The design mixes traditional layouts with contemporary design elements.
Find out how you can advertise your business for as little as $49 per month by filling out the form below. You can also call us at 214-434-1401.
Download our 2012 Media Kit – Dallas South News
Distribution Locations:
South Side on Lamar
Paul Quinn College
Baylor Diabetes Health and Wellness Institute
South Dallas Smiles
Concord Church
Friendship-West Baptist Church
Oak Cliff Chamber of Commerce
Fiesta – Hampton/Ledbetter
Southwest Center Mall
Johnson Chapel Community Church – DeSoto
Off The Bone BBQ
University of North Texas at Dallas
The Master's Haircuts